No, the Brooklyn Nets shouldn't push the panic button just yet.
It's clear who the Nets are– an offensive juggernaut with limitations defensively. On paper, it would be safe to assume the Nets are too talented offensively to suffer the lulls they have been thus far. But it's clear that teams around the league know they can keep pace with the Nets' firepower. For all they can be offensively, their defense is marginalizing their claim as a title contender.
https://twitter.com/dimeuproxx/status/1359363874760380416?s=21
While there are many reasons not to hit the panic button as it relates to the Nets defensive outlook as detailed in this article, it is clear that a change is needed. Whether the problem is philosophical or in terms of personnel, the Nets are just not pulling their weight on that end of the court. Everyone around the league is noticing as teams are clearly viewing Brooklyn as a team that will allow an onslaught of points.
Should The Nets Be Panicking?
After three-straight losses to the Raptors, 76ers, and most notably, the Pistons, the Nets should be concerned. They had allowed seven-straight opponents to all score more than 120 points. While the Nets may be second in the league in scoring, they are also 28th in points per game allowed. Against Detroit, this metric reared its head. The Pistons got whatever look they wanted down the stretch. Afterward, Kyrie wasn't shy about voicing his displeasures.
"I don't think that we go out every single day of our lives and sacrifice the time in order to be average at anything," a visibly frustrated Kyrie Irving said after the Nets' loss to the Pistons. "And we look very average. And we have the talent that the eye tests present that we should be dominating."
Are The Nets Underachieving?
While most people around the Nets aren't hitting the panic button, it is clear that they are underachieving. Flirting with a .500 record was not the plan when they acquired the likes of Irving, Harden, and Durant. After losing to Detroit, the Nets are now 7-11 against teams with a record below .500. So perhaps there is a silver lining here.
The Nets are who everyone believes they should be when they are playing against teams higher up the standings, as they have a record of 9-1 against teams at or above .500. So I guess this is good news for the Nets as they continue their west-coast road trip which features two surefire title contenders.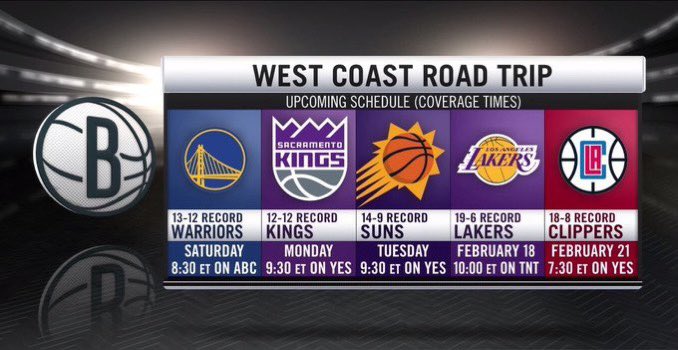 A Telling Stretch of Games
Following their embarrassment against Detroit and Kyrie's public criticism of the team, the Nets have bounced back in a major way. For the first time since 1/25 against Miami and for only the third time all year, the Nets held a team under 100 points in their 104-94 win over the Indiana Pacers on 2/10. They followed up that performance with an impressive 17-point victory against Golden State.
The Nets will look to improve upon their two-game win streak against the up-tempo Kings. With solid bigs and an offense that generates a lot of points, the Kings will be a worthy adversary.
I'd think twice before selling stock on the Nets. They are far from content with how things have played out so far this season. When things have not gone their way and I'd say they have responded in spurts. It's going to come down to sustaining that discontent and riding that wave home. They say adversity introduces a team to itself, and the Brooklyn Nets seem poised to show the world that they're more than their offensive exploits.
Follow us on Twitter @NetsLead for the latest Nets news and insight. 
Loading...