In light of recent rumblings around the NBA this last week, the Lakers have more options to decide from at the point-guard position this summer.
Do they invest in continuity by bringing back D'Angelo Russell for good? Or do they appease LeBron James by acquiring another star on the market like Chris Paul or Kyrie Irving?
Los Angeles has an embarrassment of riches whichever way they go. But each choice has its flaws.
LOOKING INWARD
The first option is to run it back with the core that just made it to the Western Conference Finals. This would mean bringing Russell back on a relatively friendly contract. Yes, D-Lo had a horrible series against Denver, but what seems to be lost in his failure is that he was essential to LA making it as far as they did in the first place.
Continuity is a major factor to a deep playoff run and the Lakers didn't have much of it. The two teams competing in the Finals are a prime example of cores that have stuck together for multiple seasons.
Russell himself has stressed how good this team would be if they got even the slightest bit of regularity together.
"If we get one training camp under our belt with this group, the sky's the limit," Russell said in a postgame interview back in early March.
"I just want to bring that fun back to this organization, bring that laughing factor, bring all of that, and let it translate on the floor." @Dloading pic.twitter.com/08NlKWnog4

— Spectrum SportsNet (@SpectrumSN) March 11, 2023
The blueprint to success was clear for LAL down the stretch of the season. LeBron and Anthony Davis surrounded by a bunch of role players hasn't failed them when healthy.
In the event the Russell fit just won't work out, signing him to a one- or two-year deal gives him value at the trade deadline. Either way, the Lakers have options to divert to if they bring him back.
While his WCF blunder looms over the idea of running it back, one thing about the eight-year vet is certain — he is an 82-game player that will contribute to regular-season success.
The ball is in the Lakers' court.
AN OUTSIDE HIRE…?
Since the Lakers fell out of the postseason, there have been at least two big-name guards linked to the franchise — Kyrie Irving and Chris Paul.
It is no secret that Irving and Paul are close friends with LeBron and that they have shared interests in teaming up together.
There is just one problem — we've seen it before.
A potential dynasty was halted in LA after acquiring a third star in Russell Westbrook.
Nevertheless, let's look at what each option brings the Lakers.
Kyrie Irving
It should first be prefaced that while the talks surrounding Irving to LA have calmed down, there is always intention when it comes to stars of this caliber. Irving is without a doubt a top-five guard in the league at any given time. His craftiness, handle and scoring ability are unmatched among his peers.
He is certain to be an upgrade over Russell in both the regular season and the playoffs.
The main problem with employing players like Irving is that his contract implodes your salary cap — imploding any potential depth.
Here is a sketch of what the Lakers' cap sheet would look like if they were to sign-and-trade for Irving: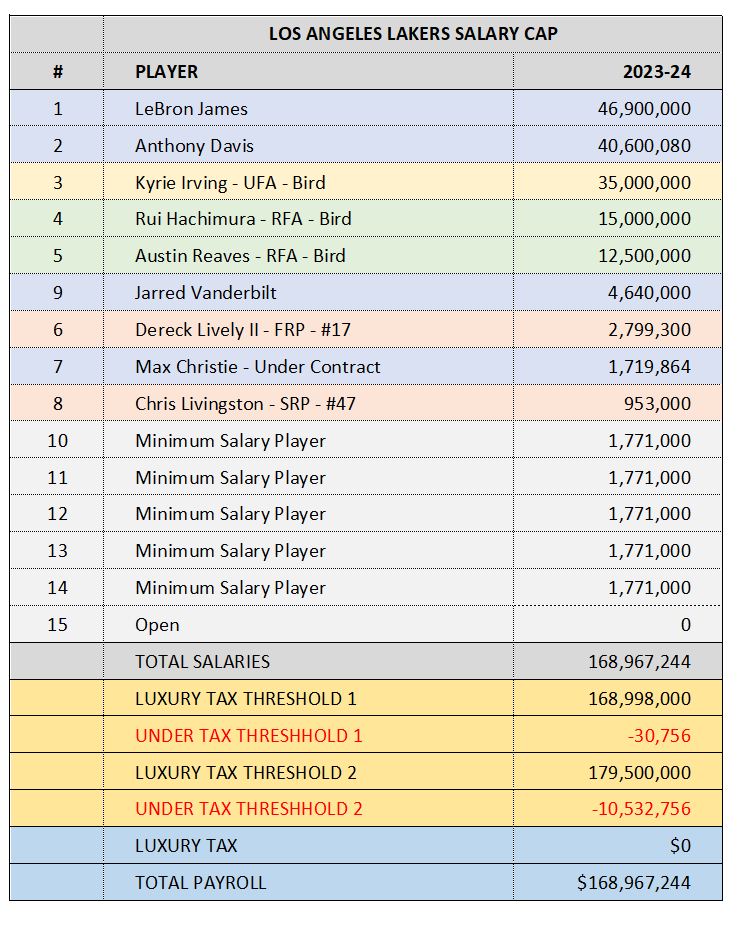 The roster may look solid on paper, but your seventh-best player being a second-year rookie isn't ideal. Reverting back to a three-star system is exactly what the Lakers should not do.
Chris Paul
The same can be said if CP3 becomes an option as well. However, many speculate that LAL has a shot to sign Paul for a low number.
Paul's playmaking ability is a perfect fit for this Lakers squad. He is more trustworthy than Russell in the playoffs and is an astounding veteran presence. The effect he can have in LA cannot be overstated. But again, it has to be for the right price.
Wouldn't surprise me at all if Chris Paul ends up on Lakers (minimum contract) pic.twitter.com/jI3LrG8LrD

— Ralph Mason (@Ralph_MasonJr) June 8, 2023
Signing Paul to a minimum contract would be the best-case scenario if the Lakers chose to go that route. That would mean that they could add a veteran guard while keeping a great portion of their depth.
A WILDCARD OPTION
There is another unpopular option that LA can turn to to answer their question at the one. It is one that has been previously advocated for.
Let Austin Reaves run the point.
With the front office making it certain that they'll bring him back at any costs, Reaves presents a solid option.
Trading away Westbrook not only allowed for the Lakers to get deeper, but it allowed for Reaves to assume more responsibility with the ball in his hands. This move uncovered Reaves' full potential as a scorer and playmaker.
Austin Reaves' averages pre and post-Westbrook trade:
Pre-Westbrook (37 GP): 10.5 PTS | 3.0 REB | 2.2 AST | 48.4 FG% | 35.7 3P% | +64
Post-Westbrook (27 GP): 16.5 PTS | 3.0 REB | 5.0 AST | 57.7 FG% | 45.6 3P% | +150
The kind of jump that Reaves took when given more looks is most-improved worthy. He isn't done either. Reaves could make another jump next season.
If the Lakers were to entrust Reaves at the point-guard position and turn Russell's contract into more role players, the LA roster could get even better.
It is going to be a fun offseason for the Lakers. Their next season starts with who they decide to bring in to handle the ball. The front office has shown fans that they have improved in their ability to make the right moves for success.
Our trust is in their hands.
LeBron James Anthony Davis Dual Bobblehead!
King James + AD = One star-studded bobble. Enjoy a double-double worthy of Hollywood top billing with the LeBron James & Anthony Davis Los Angeles Lakers Bobblemate Dual Bobblehead.