---
5. Kyrie Irving
Kelley L Cox-USA TODAY Sports        
Everyone expects the Cavaliers to make the NBA Finals this season, but only to lose to the Golden State Warriors. The Cavaliers can win that series but it'd require the Cavaliers trio to have transformative playoff performances. Everyone knows LeBron will enter playoff mode and go ballistic as he did last year in the NBA Finals, which is also why he's not on this list. Kevin Love on the other hand will get a lot of flack regardless, and the pressure is on him to perform well.  So that leaves Kyrie Irving being a wild card of sorts. If he can step up and take his game to not just the next level (we know he's capable), but the level after that, the Cavs can really pull off an upset. But the problem is he's a defensive liability, still tends to over dribble on offense, isn't really a pass first guy, and hasn't really had a huge game this season like last season against the Spurs that shuts up many pundits. On top of all that he's been involved in recent locker room and off court controversies. The Cavaliers are still LeBron's responsibility but Kyrie Irving playing on an elite superstar level would help a lot.
---
4. Isaiah Thomas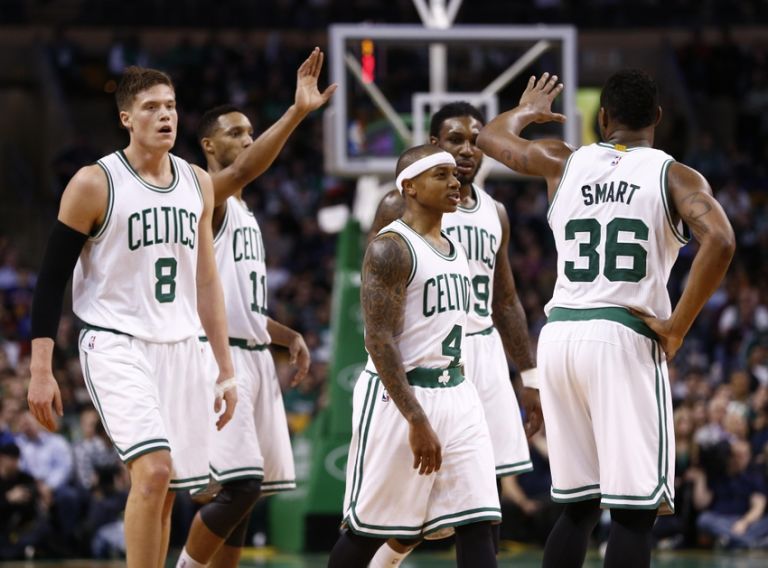 Mark L. Baer-USA TODAY Sports        
The Celtics have become the team in the East no one wants to run into in the playoffs. They have shown amazing resiliency throughout the season and are coming off a game vs Miami where they were down 24 points at one point but still ended up winning by double digits. The Celtics can realistically make the Eastern Conference Finals and give the Cavaliers a run for their money. The Celtics team is touted as "one whole superstar", and Isaiah Thomas is the head of that superstar. Isaiah Thomas will be crucial to whatever success the Celtics achieve this postseason. Dragic, Kemba, Kyrie, Lowry, and Reggie Jackson all know not to take this little guy so lightly.
---
3. Blake Griffin Gary A. Vasquez-USA TODAY Sports
While most of the guys's on this list are expected to do more, Blake Griffin is an exception. Obviously, Blake is a key piece to the Clippers, and in order for them to win a championship he will have to be playing at a very high level. But Blake Griffin just returned to the Clippers after being on the inactive list for a long time. His minutes have been limited but he still hasn't looked t0o good since returning. Blake just needs to make sure he doesn't try to disrupt the Clippers rhythm with trying to do too much. That may end up being the case since they're still not likely to beat the Warriors and this could potentially end up being Blake's last post season with the Clippers (the team has already tried trading him this season).
---
2. Dwyane Wade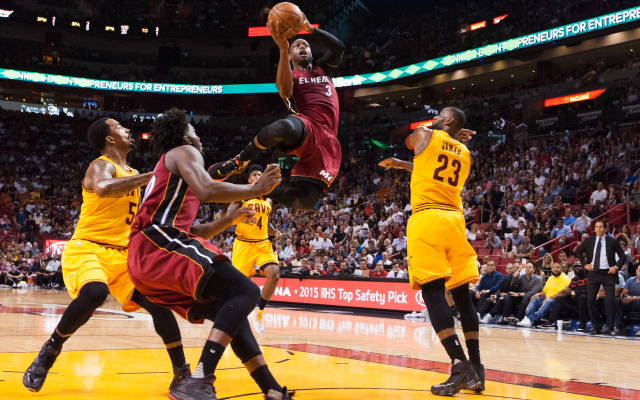 USATSI
With Chris Bosh likely not returning to the the Miami Heat, this will be the first post season in a long time where Wade hasn't entered without his Big 3 buddies. But this is also the first season where he's played in 70+ games in a long time. The loss of Bosh hurt, but D-Wade and the Heat are still in position to be the biggest threat to upset the Cavaliers if they make it to the Conference Finals. It'll be all up to Dwyane Wade to lead the Heat's strong core into a deep playoff run. The question is, can a 34 year old flash still put up some big time playoff performances?
---
 1. Damian Lillard Mark D. Smith-USA TODAY Sports
The Portland TrailBlazers are not expected to win the NBA Championship, to make the Conference Finals, hell their not even expected to be competitive against the Clippers in the first round. But they weren't expected to be in this position either. If you said the Trailblazers were going to be the 5 seed before the season started everyone would've laughed at you and dismissed you. Portland lost 4 of it's 5 starters from last season. They only needed to keep one. Damian Lillard. And it's Lillard time baby, I fully expect Lillard to go full kamikaze mode and get revenge for being snubbed of another All Star spot. Lillard is the guy I am going to be watching this first round, and I wouldn't be surprised if he leads his team to an upset over the Clippers.
Thanks for reading, feel free to follow me on twitter at @turbanediverson. Also please follow @NBALEAD and @TheNBACentral!