Legacies can be built in March. Just ask Arizona alum, Aari McDonald. While McDonald was the best player in the Pac-12 during the 2020-2021 season, and one of the best defenders in the country, not many people saw her as a WNBA lottery pick prior to Arizona's run to the national title game.
Before April in 2021, most mock drafts had her being drafted between the fifth and eighth pick. Instead, she was drafted third overall by the Atlanta Dream.
McDonald was the offensive and defensive catalyst for the Wildcats all tournament long. Nobody, except for Arizona, expected Arizona to be playing in the last game of the season. En route to that game, they took down Stony Brook, BYU, fourth seeded Texas A&M, Indiana, and one seeded UConn, before falling short by a point in the final to Stanford.
In that Final Four game against UConn, Arizona were fourteen point underdogs on Caesar's Sportsbook. McDonald didn't seem to care about that. They won by 10 in a game that never really seemed close.
McDonald scored 26 points and played great defense on National Player of the Year, Paige Bueckers, who finished the game with 18 points, which was below her season average. While Arizona fell short in the title game, it's safe to say that McDonald played her way into a lottery pick, which she absolutely deserved. McDonald became the story of the tournament.
Most importantly, we were rewarded with one of the best GIFs to come out of women's basketball to date: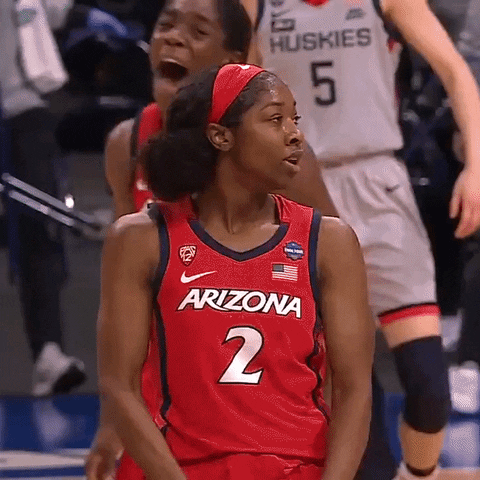 Who is Next?
So, who will be this year's Aari McDonald? Who, if anyone, will put their team on their back and show the WNBA GMs watching what they can bring to the table? When you consider that all of the prospective lottery picks have already been eliminated prior to the Sweet Sixteen, there's certainly room for some players to raise their stocks more than others.
It's a foregone conclusion that picks one and two are locked. Despite Kentucky and Baylor losing early on, Rhyne Howard and NaLyssa Smith are going first and second. The only question there is who will go number one. Many mock drafts have Shakira Austin of Ole Miss at number three, but it really seems like after Howard and Smith, anything goes. Maybe the door is open now for another big to make a name for herself.
Knocking On the Lottery Door
Perhaps someone like Michigan's Naz Hillmon. With the shocking upset of Baylor in the Round of 32, Michigan's odds to reach the Elite Eight increased.
Now that Smith is gone, there's no big left in the region who can compare to Hillmon. She's an extremely talented finisher at the rim, with a motor that never seems to stop. She hasn't yet added a three point shot to her game, which could possibly be a hindrance draft wise. She also handles double teams well. That's something she's become accustomed to dealing with as one of the best players in the country. Hillmon was named a First Team All-American this season.
In recent mock drafts, Hillmon has been as high as fourth, and as low as fourteenth. As previously mentioned, everything after Howard and Smith seems to be a toss up, and some people are indecisive about where she should go.
In 29 games this season, Hillmon is averaging 21.3 points per game on 58% shooting and 9.6 rebounds per game. She averages 4.5 offensive rebounds per game, which is good for seventh in the country, per Her Hoops Stats. She's a beast on the boards, which is valuable to have at any level of basketball. In Michigan's Round of 32 game against Villanova, Hillmon dominated the offensive glass. She tallied seven offensive rebounds, leading her team to a fifteen point win. Should the Wolverines make a run to the Final Four, or further, with Hillmon carrying the team there, she could find herself on the wish list of a number of WNBA GMs.
EVERYONE ON THEIR FEET!@nazhillmon had an MVP performance in her final game at the Crisler Center!#MarchMadness x @umichwbball pic.twitter.com/J8OfViWHR3

— NCAA March Madness (@MarchMadnessWBB) March 22, 2022
Postseason Takeover
The next player that comes to mind is Christyn Williams of UConn. Those who have followed Williams' career know all too well that she's been plagued by inconsistencies since her sophomore season, after a very promising freshman season. She can be an explosive player and a lockdown defender, but she also goes through streaks struggling mightily to score the ball. However, all of those inconsistencies disappeared during March 2021. Williams was arguably UConn's best player during the postseason, so we know she's capable of showing up when it counts.
Williams was an AP All-American Honorable Mention this season. According to Her Hoops Stats, she's averaging 14.5 points per game and shooting 35.9% from three point range, her best mark in that category since her freshman season. However, Williams struggles from the free throw line, shooting just 68.7 % from there this season. Not great for a guard.
After missing two crucial free throws at the end of UConn's elite eight game against Baylor last year, there's been talk of Williams not being ready for the moment. If UConn is going to win a national championship this year, Williams is going to be the biggest reason why. After winning the Big East Tournament Most Outstanding Player, Williams looks primed for another postseason run.
Very few mock drafts have her going in the first round at all. But she has the talent to open some eyes. Considering that WNBA General Managers have had pretty decent luck drafting UConn players recently (see Napheesa Collier and Crystal Dangerfield), if Williams can replicate her postseason performance from last year, it might behoove a team take a flyer on her.
Bring On The Bigs
Sticking with the Bridgeport Region, Elissa Cunane of NC State is a player who had been previously talked about as a first round draft pick. Recently, she's another player mock drafts have going mostly late first round, or early second round. Cunane was a Second Team All-American selection this season. Per Her Hoops Stats, she averages 13.5 points per game, which is the lowest of her career, and 7.5 rebounds per game.
Cunane was the ACC Tournament Most Outstanding Player this season, as well as last season. NC State won the title for a third consecutive year.
Like Hillmon, Cunane doesn't space the floor well, shooting less than one three point attempt per game. However, she's effective when posting up, which is where the majority of her possessions take place. Cunane runs the floor well and has good enough speed for someone of her size. She's listed at 6'5, which is right around the same height as some of the players also in contention to be drafted at her position, such as Austin and Nyara Sabally.
The biggest question for WNBA GM's is going to be if they think Cunane can handle the physicality of the WNBA. If NC State is going to make a run to the Final Four, they'll have to go through some teams with size. If chalk holds, she'll match up with 6'5 Olivia Nelson-Ododa and/or the very strong and physical 6'3 Aaliyah Edwards of UConn in the Elite Eight. This would be followed by 6'4 Cameron Brink of Stanford in the Final Four.
Should they reach the championship, the best center in the country, Aliyah Boston, could very well be waiting for her. This stretch in March is the perfect opportunity for Cunane to show that she can handle toughness and physicality.
The Madness of March
What Aari McDonald did last year certainly won't happen every year. It takes a really special kind of player to do so. With that said, the opportunity is there for players to cement their March legacies. Maybe a player discussed here will do so. It could be that another player not mentioned here pulls off the McDonald special. Or maybe no one will and this year's tournament will play out just as most expect. If we learned anything from last year's tournament and subsequent WNBA draft, it's that anything goes.